Inside: 53 Gender Reveal Outfit Ideas For Mom, Dad, and Besties.
Some of the most precious moments of our lives are the parties and showers thrown in our honor or in honor of our loved ones to celebrate major milestones and life happenings. One of the best is a gender reveal party, simply because the parents of the baby on its way get to begin to visualize who they're going to be holding in their arms in the matter of a few short months. 
On the other hand, what we wear as the guest, as the family, or even as the parents can be a little bit of a stressor when we want to dress appropriately for a family occasion and want to be photo ready, but also want to be on the more stylish side than traditional. It can be a tough balance.
It's a love-hate relationship with the family party type standards, but every family is different, and some it's okay to be a little more on the casual side, and some families wouldn't dream of it.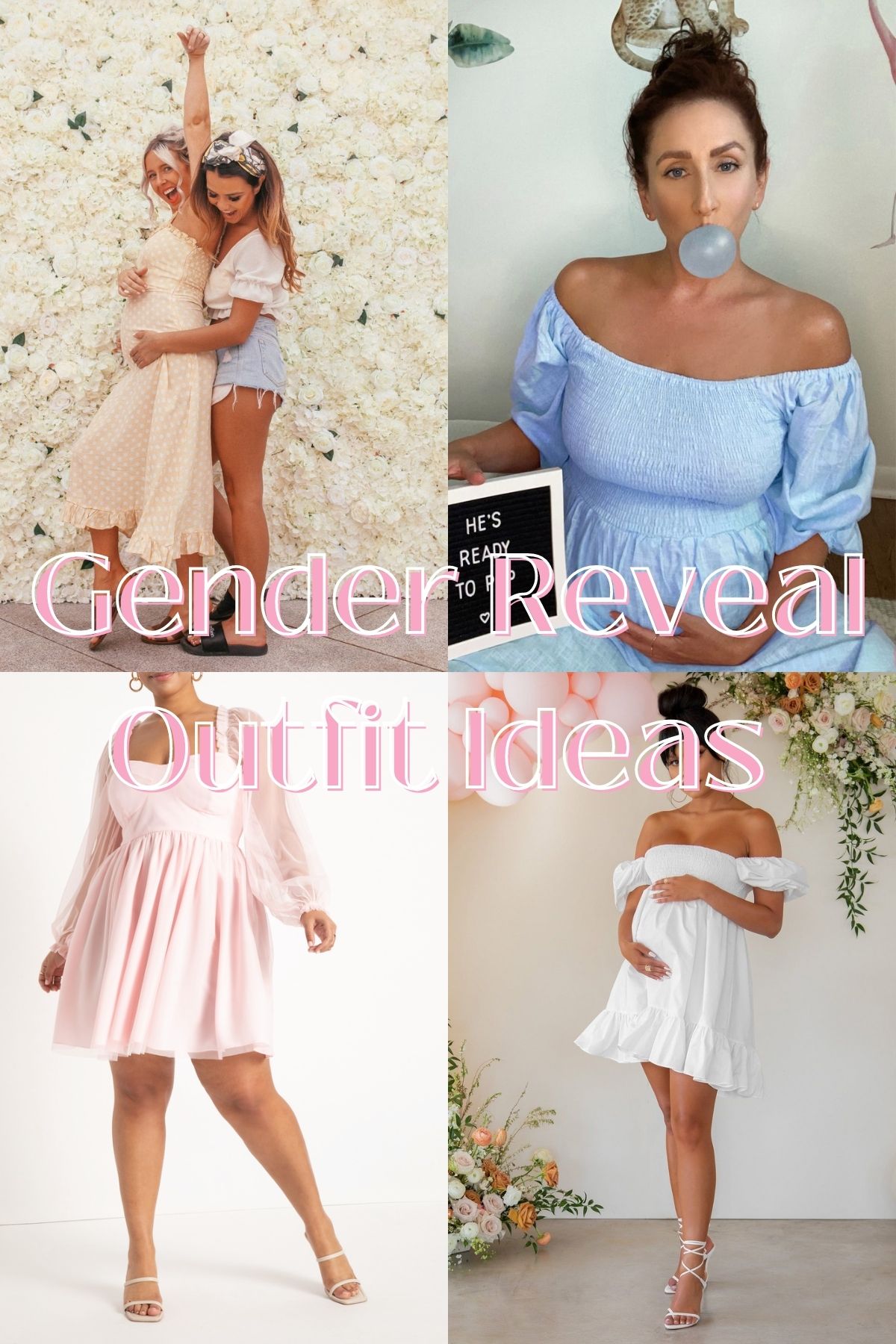 So if you need some ideas on what to wear to the next gender reveal you're attending, here are some of the best for whoever you are. 
Baby Party Dress
Dresses are always the safest option when it comes to a celebratory party, they're always showing just the right amount of effort, and they're almost always the classiest option. But what kind of dress is the best for gender reveal outfit?
It depends on a few factors like formality of the occasion and of course the season, but if you're ready to show up and show out, here are some dress options that can be a subtle hint at your guess at the gender as well. 

Gender Reveal Outfit Ideas For Mom
When you're the mother of the soon coming little boy or girl, all eyes and cameras are on you, so I know the pressure is on to be in the cutest outfit where you don't have to think about the angles and fixing the dress or whatever. You just want to be at your party. So whether your gender reveal outfit style is boho or preppy, cute or casual, there's a perfect outfit for you.
Look through some of the inspo and imagine yourself jumping with excitement and crying with joy at the news of whether you'll be welcoming a little boy or girl into your world. 

For Guests
As a guest to these events, you want to look good but not the best in hopes to not look like you're trying to upstage the mother-to-be. At least, that's always my perspective. So how do you cast your prediction of the little baby's gender while looking cool and relaxed? These gender reveal outfit ideas will help you out. 
We love to support our friends and look good in the photos we take with them to commemorate the occasion, so here are some outfit ideas for you that have some style and are appropriate for the occasion as a guest of the future mother. 
If you're not too keen on a ton of color, here are some subtle ways to express your guess: boy or girl, without having to go too far into the colorful summer trend if it's not your thing. It's not for everyone!

For Parents
Now, dressing the mom is one question, but coordinating with dad or partner is a whole other situation. We love our significant others but there's always one party that's a little style challenged or difficult to outfit coordinate with. Whether you're casting your vote or prediction with your outfit color choices, or planning to represent either option equally, the pink and blue color theme at least gives you a direction you maybe didn't have before!
I'm here to make it easy on you, so here's some inspo to refresh your outfit coordination ideas. 
Gender reveal parties are fun, exciting, and lighthearted, just like your outfit should be whether you're in attendance or throwing the party. It's such a special time for the parents, for the family, and for the friends that are about to become aunts and uncles by-proxy, and you want to dress for such a special occasion.
The photos you take together will be core memories of going through life together, and we always look back at these events and make commentary on the outfits we chose.