Inside: Bright fluorescent outfit ideas that will answer the question, "What to wear to a glow party?".
We've all been to those classic soirées and elegant gatherings, but let's talk about those events where the brighter you are, the better… yes, I'm talking about glow parties!
I'm dying to wear one of these fluorescent fabulous numbers and dance under the gleaming UV lights. Let's hope our holiday parties pan out to be as great as the sound.
From neon splashes to glowing accessories, we're going to dive into some outfit ideas that will make you the shining star of the evening. So, grab your glow sticks, put on your sunglasses, and let's venture together into the radiant universe of glow party fashion!
What is a Glow Party?
Alright, let's dive into the kaleidoscope world of glow parties! So, what is a glow party, you ask? Close your eyes and imagine this: A room pulsating with electrifying beats, bathed in black lights, and sprinkled with the vibrant hues of neon and fluorescence bouncing off every surface and body!
It's like stepping into a luminous wonderland where the dress code is all about glowing, shimmering, and dazzling!
Glow parties are the ultimate playground for lovers of light and color. It's where your wildest, brightest, and most flamboyant outfits get to have their moment in the spotlight – quite literally! We're talking neon clothes, glow-in-the-dark accessories, and fluorescent face paint turning every guest into a walking, dancing piece of art!
And it doesn't stop at the outfits. The décor, the drinks, and even the food, sometimes, are all part of this radiant extravaganza. Imagine sipping on a glowing cocktail while bobbing to the beat under a shower of neon lights!
It's a place where the energy is infectious, the vibes are upbeat, and the memories are as vivid as the glowing outfits around you! So, next time you get an invite to a glow party, remember, it's time to let go, light up, and let your inner glow shine through.
What colors are best for a glow party?
Oh, glow parties! They're like stepping into a fluorescent fairy tale where everything is brighter, and every color seems to dance! When it comes to choosing the best colors to wear, it's all about standing out and lighting up the dance floor.
First off, white is my go-to! It's like a canvas waiting to soak up all those glowing lights and reflect them back, turning me into a beacon of light! It's the easiest way to get noticed and to play with those colorful lights.
Neon colors are my best buds at a glow party! I'm talking about those bright, electrifying shades of pink, green, yellow, and orange. They catch the black lights perfectly, ensuring that I'm radiating vibrancy from every angle!
Black might seem like an odd choice, but hear me out. It acts as the perfect backdrop for neon and glow-in-the-dark accessories. I like to mix it up with some neon belts, jewelry, and maybe even some glow-in-the-dark body paint to make my outfit pop!
Reflective and metallic colors are my secret weapons!  They act like mirrors, catching and bouncing back any light that hits them. It's like being a human disco ball, scattering light all around me.
Don't forget those dazzling, bright patterns and prints! They add an extra layer of fun and are fantastic for creating a playful, energetic look. The bolder and brighter, the better!
What to wear to a glow party?
Alright! Time to prep up for this luminous adventure and shine brighter than the disco ball at a glow party! Here's my surefire game plan to light up the night:
Green Mini Skirt By sammyfitz21
1. Neon, Neon, and More Neon!
I'm thinking neon tops, bottoms, and everything in between! They're like magnets to those UV lights.
2. White is Right!
White clothes are like blank canvases waiting to be painted with light, so I'm going all out with white tees and bottoms.
3. Comfortable Shoes
Gotta wear those comfy yet stylish sneakers! Dancing is a must, and so is glowing from head to toe! For more comfort chic, check out these comfy outfit ideas.
Neon Green Boots Outfit By lucyappleton21
4. Glow Sticks Galore!
From bracelets to necklaces, I'm decking out in every glow stick imaginable!
5. Light-Up Jewelry
Neon bracelets and earrings? Yes, please! Gonna shine bright like a diamond, literally.
6. Neon Face Paint
A dash of neon paint on my face, and I'm ready to stand out in the crowd!
Green Top Idea By manalika.das
7. Black Light-Reactive Makeup
Glowing lip gloss and shimmering eye shadow are my secret weapons to highlight my features under the UV lights.
8. Temporary Hair Colors
A few streaks of electric blue and fiery orange, and my hair is going to be the talk of the party!
9. Breezy Outfits
It's time to feel free and cool, so I'm opting for airy, light fabrics that let me move and groove with ease.
Purple Ombre Shirt By arj_fashionbrand
10. Funky Hats
Maybe a neon hat or a cap with LED lights. It's all about getting those heads turning!
11. Reflective Gear
Anything that reflects light is my ally, so I'm hunting down some shiny, reflective accessories to amplify my glow. The more, the better, so maybe consider checking out these jumpsuit outfit ideas to enhance your shine!
12. Reflective Gear
Anything that reflects light is my ally, so I'm hunting down some shiny, reflective accessories to amplify my glow
Matching set with pink boa by mikaela721
13. Fun Patterns and Prints
I'm not holding back on bold prints and whimsical patterns that can dance and dazzle under the black lights!
Black Light Party Clothes
If you are like me, then you may benefit from a little visual learning. The ideas below are some wonderful examples of what to wear to a glow party.
Striped Neon Dress By suechinglascelles
16. White Romper with Glowing Outlines
Nice Orange Dress By missmohanty
19. Neon Suit Idea
Cheetah Print Dress By alittlebitoflottie
22. Fancy Yellow And Blue Suit
Rainbow Striped Jacket By girlwithbellsandwhistles
23. Mini Skirt and Green Sweater
Neon Party Outfits
The best outfits shine the brightest, and in this case I mean that literally people! You want to be the star that burns the brightest when you are at a glow party, and these outfits are just the ticket. If you have already decided on wearing red, then you should check out these red outfit ideas!
Casual Jacket Outfit By jocewears
26. Black Pants with Bright top
28. Matching Yellow Skirt and Top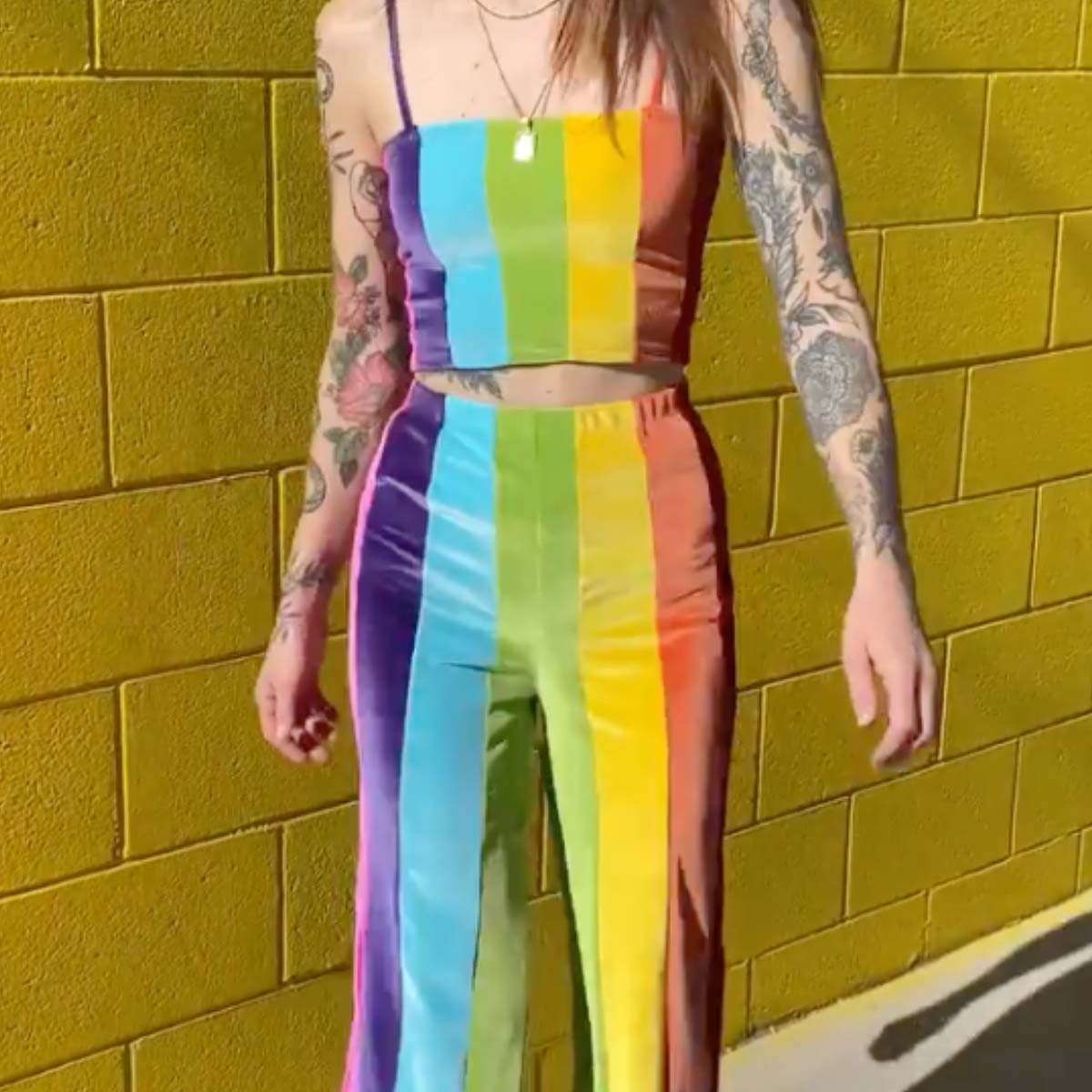 Rainbow Matching Set By ksgarner
29. Striped Dress & Comfy Shoes
Cute Pink Dress By lucilegtu
32. Rainbow Jacket
33. Neon Jacket
Best Clothes for a Black Light Party
I like to go colorful when attending a glow party. Solid colors are fun and all, but the best outfits include a little bit of them all. Whether you are looking for rainbow sets or groovy dresses, this is the list for you!
Neon Skirt Idea By oliviatps
36. Neon Green Skirt
Cool Floral Dress Idea By lookofmermaid
Chic Outfit Idea By andrea.colorfulstyle
Simple Knitted By velvetvolcano
And there we have it, fellow glow-getters! I'm loving the neon spectrum of fashion, filled with radiant rainbows of fluorescent fun to light up the night! Remember, a glow party is your canvas, and your outfit is the paint – so go ahead, unleash your inner artist and color outside the lines!
I hope you loved this guide on what to wear to a glow party. Whether you're adorned in glowing accessories or covered in vibrant splashes of neon, it's all about letting your individuality shine as bright as your outfit.
So, deck yourself out, hit the dance floor, and let's make the night unforgettable with our luminous presence. Keep shining, my fluorescent fashionistas, and let the world see your true colors.