Inside: 11 iconic Karol G outfit ideas to copy her amazing style.
Your taste in music says a lot more about your personality than just what you like to listen to. It shapes your energy, your vibes, and most importantly, your style. You can always tell who is a fan of some of the biggest artists just by the way that they dress, like Harry Styles and Taylor Swift. Their fans have a pretty distinct aesthetic!
Even when your favorite artists are more underground, they can still show up in your style and you may find yourself starting to dress like them, or atleast dress in the energy of their music.
As a big fangirl my whole life, I love this kind of parasocial relationship between and artist and a fan– it's showing how much the artists' music is impacting someone's life, and how much they look up to them. I think it's beautiful.
As you're searching up different outfits to dress like Karol G, you're going to find some really fun ideas! Colombian artists always have a really fun energy to them, and Karol G is no different. Have fun with these outfits and have fun with channeling the energy of some of your favorite artists.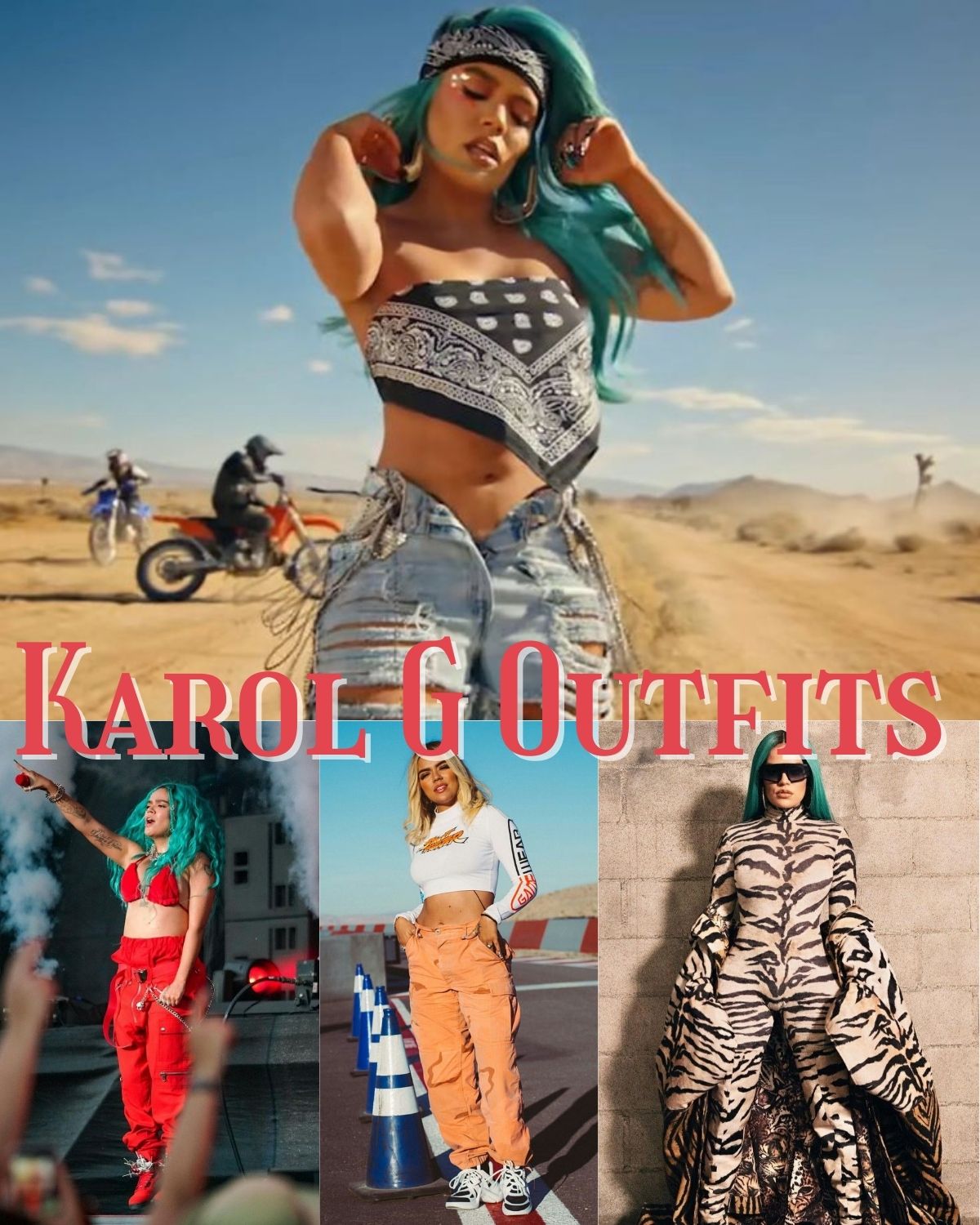 What Is Karol G's Style
Karol G is the poster child for cool girl style. Not only has she totally captured the pop star and rock star cross over kind of style, but she is also the queen herself of street style. When you think of Karol G outfits, you think of her cargo pants, her oh so cool and casual tee shirt dresses, and her amazing concert looks.
She is the epitome of street style, but add a little glamor and a lot of baddie and you've got the perfect concoction of Karol G outfits.
When you're out shopping and starting to look to her for inspiration, think of some of the edgy and colorful pieces as opportunities to turn nothing into something, or to style it into something new. Not everything she wears is exactly to a T made for her style, but she makes it her own and she turns it into her style. This is what personal style is all about. So don't get caught up in what is or isn't exactly the look right off the bat. Feel free to get creative! She does, or at least her stylists, so why shouldn't you?
She is edgy, she is cool, and she is everything. So channel her style with some of these outfit ideas inspired by Karol G.
Concert Outfits
Karol G currently doesn't have a tour on the books… Sad face… But when she does, you better be ready with some of the best outfits! Concerts are already some of the best and most memorable moments of a fangirl's year, and wearing an outfit inspired by or replicating one of the artists you're going to see makes a live event feel even more like a full experience. It's just a part of concert culture now, and I couldn't love it more.
Just because you may not even meet the artist doesn't mean that you can't and shouldn't show up and show out in the best Karol G vibes. It adds to the experience for everyone– seeing the other fans walking around the venue and thinking about their outfits and how it totally matches the vibe makes it all more exciting. I'm obviously a huge advocate for dressing up for fun for a concert.
So getting to find some fun outfits inspired by your favorite is the best way to do so.
You can replicate an outfit they've worn in a concert, a music video, a red carpet appearance, or anywhere else they've worn something that caught your attention. This is your chance to play dress up as someone you admire, so why not take advantage?
Find the outfit you want to replicate or even find an outfit that feels pretty inspired by their music and their overall vibe and start from there. When you get the base pieces down, like a really cool pair of pants or an incredible top that just screams "Karol G," then building out the rest of the outfit is the fun part.
Shoes can be the more difficult part of any concert outfit, but luckily in a genre and style like Karol G, it's pretty easy to just roll with a pair of sneakers and call it good. Some shows are more flashy and retro fashion inspired, so the girls trying to rock a pair of platform boots might have a little bit of a harder time. However, going to a more street style concert, the perfect pair of Nikes or limited editions of any brand are the best move, and will only add to the cool girl element of the outfit.
I've made the mistake of pulling out a tube dress to a concert… And not just any concert. It was a long-awaited Harry Styles concert. It wasn't the worst thing I could have chosen, but as some of the songs had me jumping and moving a lot, I was worried about the dress dropping. And that's not anything you want to think about at all while at an amazing concert. So keep movement in mind as much as the standing around and waiting.

Karol G Style
1. Blinged Jersey
2. Fishnet And Hoodies
3. Neon Over The Knee
4. All Red
5. Cool Mixed
6. Orange Cargo

Karol G Halloween Costume
There are definitely plenty of ways that you can dress to mimic some of these amazing iconic looks. But if you need something that is going to stand out and be a little more obvious, you can totally breakout the blue wig to replicate her amazing blue hair era.
7. Tee And Blue Hair
8. Blinged Leather Pants
9. Bandana Top
10. White Harness
11. Full Zebra
Karol G's outfits are each so iconic, especially the ones from some of her guest appearances with other artists like Bad Bunny and Becky G. These are phenomenal artists for her to make a guest appearance with, and the outfit matched the moment excellently.
Finding outfits inspired by her is so fun, and they're perfect outfits to incorporate into your own wardrobe for anything you have coming your way. Dressing like your favorite artist is just another form of adoration and inspiration from someone that you look up to. And from one fangirl to another, I think that's amazing.
Have fun with these outfits and if you're heading to a Karol G concert soon, have the best time! Concerts are some of my favorite memories, and I just know you're going to have a blast. And look amazing too.
Speaking of concerts… These Taylor Swift Lover outfit ideas are just fantastic. So pretty, so lovely, and so ready for this Eras tour!